Collaborating with school districts to create long-term 21st Century educational experiences.
­

To achieve the goal of providing every child with a high-quality, well-rounded education, school buildings and campuses should be attractive, engaging, safe, and well equipped. This is critical to support 21st Century learning skills, such as collaboration, digital literacy, critical thinking, and problem solving.
Quality facilities give teachers and students opportunities to teach, learn and interact in innovative and collaborative ways, resulting in a more productive and rewarding educational experience and long-term success of every student.
To position schools in correctly integrating 21st century educational experiences, Foster, Jacobs & Johnson (FJJ) develops and implements comprehensive facilities plan using its tested stakeholder engagement process.  Our managing partners have over 100 years of combined experience in helping public schools in Minnesota develop and implement complex facility solutions including the integration of existing and emerging classroom technologies.
Our three step, data-driven, decision making process ensures objective solutions that will withstand the test of time. The three steps include:
Step 1. Subjective and Objective Data Collection (Community/stakeholder engagement through listening sessions; Facility assessments; Educational adequacy assessments; Demographic study and Financial analysis)
Step 2. Data Analysis, Option development, and Community/Stakeholder feedback sessions
Step 3. Additional Community/Stakeholder feedback, Final Solutions/Plan Development, and Execution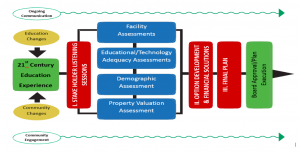 To collaborate with an exceptional educational team in Minnesota to help create 21st century educational experiences for all students, please contact:
Dave Bergeron
Fargo/Moorhead Area
Daveb@fjj.com
701.371.2948
Jeff Schiltz
Northern MN/Duluth
Jeffs@fjj.com
218.348.0751
Arif Quraishi
Southern MN/Minneapolis
Arifq@fjj.com
612.437.9416
** Editorial content provided by associate member.