MREA released a map today showing the tax relief and equalization in HF 630. A thumbnail is below. View the interactive map.
HF 630 replaces $28 million in Operating Referendum Levies with State Equalization dollars: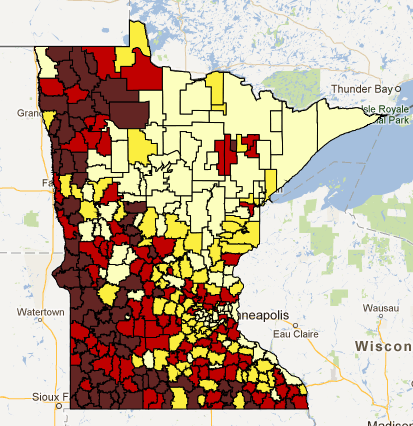 Creates Referendum Market Value Equalization Factor (RMVEF)
RMVEF will float with state total RMV value and state total PU's so it maintains somewhat close to current tax effort adjusting for changes in property value and student population
RMVEF estimated to be $431,150.
Raises Tier 1 Equalization Factor to 122% of RMVEF. That's an 11% increase from the from current $476,000.
Raises Tier 2 Equalization Factor to 66% of RMVEF. That's a 5% increase from the current $270,000.
HF 630 Tax Impact on Homeowners
Provides homeowners in the 249 school districts with voter approved operating referendums tax relief which also have less than $526,000 in RMV/PU.
Provides the greatest tax relief up to $39.75 for $150,000 homes in districts with less than $270,000 in RMV/PU with referendums of $700 or more
Provides 50% of that relief ($21.00 for $150,000 homes) for homes in school districts with more than $270,000 in RMV/PU with referendums of $700 or more