A total of 48 school districts in rural Minnesota will go to voters this November to seek funding. Twenty-six of them will ask their voters to approve facility bond requests Nov. 5, and 28 will seek operating referendum approvals.
About 75 percent (21) of the operating referendum requests are for increases. This continues a pattern where increases outnumber renewals.
Six of the school districts will ask voters for both bonding authority and operating referendum approvals.
Nov. 5, 2019

Bond and Capital Levy Referendums

Rural

26

Metro

5

Statewide

31
The increase of the Ag2School Bond Credit to 50 percent (payable in 2020)  will affect farmers taxes for these referendums and all current bonded debt.  Learn more
Nov. 5, 2019

Operating Revenue Referendums

Renewals
Increases
Total

Rural

7
21
28

Metro

1
8
9

Statewide

8
29
37
The increase of $57,000 in the first tier of operating referendum equalization enacted by the 2019 Legislature is expected to assist school districts seeking operating referendums to gain voter approval. Still, recent referendum performance shows rural districts face longer odds in passing operating referendums.  Learn more.
School district leaders putting referendum questions to voters, especially bond referendums, face an active vote NO proponent in Minnesota.  Read the recent news story.
"These school districts are seeking much-needed funding for students in our state. There are a series of funding challenges at work for rural schools," MREA Executive Director Fred Nolan said. "MREA wishes all these districts well in their pursuit of voter approval for better education for all students." Learn more about school funding trends.
Nov. 5 Referendums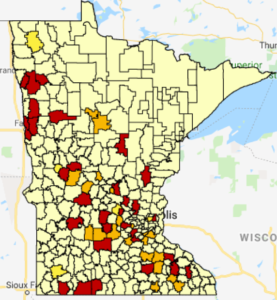 Notes on the map:
The following ten districts are seeking both bonding authority and operating referendum approvals and the map only shows their total bond request. Becker, BBE, Crookston, Eastern Carver County, Elk River, Jorden, Litchfield, MCCRAY, Red Lake Falls and Watertown-Mayer

When districts have multiple ballot questions, the total of all questions is displayed in the interactive map

Please notify MREA if anything is not reporting accurately.
Past Results
School districts can also ask voters to approve facility bonds the second Tuesday in February, April, May and August, according to state law. Thirteen of the 23 rural districts that did go to the voters on those dates this past year received voter approval for a total passage rate of 56 percent. Both metro districts that went to voters this year passed their referendums for a 100 percent passage rate.
Feb-Aug 2019 School Facility Bond and Capital Levy Referendums

Rural-Metro
Passed
Failed
Total
Percent Passed
Rural
13
10
23
56%
Metro
2
0
2
100%
State-wide
15
10
25
60%
View current list of 2019 facility bond and capital levy referendums
View a list operating referendums for Nov. 5
A special thanks to MSBA for providing the election listings and results.