The newly elected House members and those representing the Twin Cities metro area are noticeable on both the House Education Policy and Finance Committees reflecting the November election results. The Senate has one education committee with membership reflective of the 2016 results.
MREA mapped the House committee members to reveal a clear pattern, as shown to the right.
House Education Policy
Rep. Cheryl Youakim will serve as chair of the House Education Policy Committee. She is a Hopkins School District paraprofessional and former Hopkins City Council member. The 18-member committee includes seven new DFL House members. Ten of the 11 DFLers on the committee are from the Twin Cities metro area.
In contrast five of the seven Republican minority members are from Greater Minnesota and none are newly elected.  Rep. Sondra Erickson from Princeton and retired high school English teacher is the lead for the Republican.
House Education Finance
Rep. Jim Davnie, from Minneapolis and Executive Director of SciMath MN, will serve as chair of the House Education Finance Committee. This 20-member committee includes seven newly elected House members (five DFL and 2 Republican).  Nine of the 12 DFL members are from the Twin Cities metro while seven of the eight Republicans are from Greater Minnesota. Rep. Ron Kresha of Little Falls, formerly CEO of a tech firm, is the Republican lead.
These committee assignments should not be a surprise; they reflect November's general election results, as illustrated by the map to the right.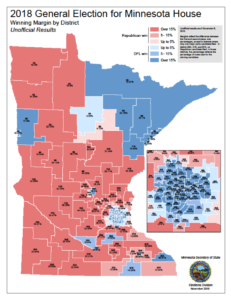 View the House Committee Rosters.
Learn more about all the representatives in the House.
Senate Education & Policy
Sen. Carla Nelson of Rochester will lead the Senate E-12 Finance and Policy Committee. Four of the Republican majority come from Greater Minnesota.  The other eight committee members, three Republican and five DFL members, represent Twin Cities districts.
The most prevalent prior experience of member are real estate, and insurance and financial services. Only two members, Senators Greg Clausen (Apple Valley) and Steve Cwodzinksi (Eden Prairie), are former educators.