Education funding in Minnesota has fallen 17 percent in the past 17 years, according to Price of Government data from the Minnesota Office of Management and Budget.
The analysis of data of education funding as a percentage of total personal income shows a decline of 0.84% from FY'95 to FY'13, worth $2.1 billion. In other words, if Minnesota today was investing in K-12 education at the same rate as a percentage of total personal income as it did in 1994-95, there would be an additional $2.1 billion working for kids in our state than we are currently investing in our children.
The chart below illustrates the change in educational funding as percentage of total personal income. The projected continued decline of educational funding as a percent of personal income in FY'15 is based on current law and projections of growth in total personal income.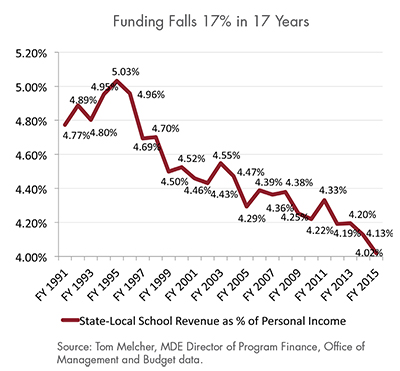 MREA worked with Tom Melcher, MDE Director of School Finance, and the Office of Management and Budget for the data, after Dane Smith of Growth and Justice highlighted the issue at the Education Finance Working Group last week.
The Price of Government is defined as total state and local revenues as a percentage of total Minnesota personal income. It reflects how much of each dollar earned goes for state and local government. State law requires that the Governor recommend and the legislature adopt targets for the price of government. Minnesota Management & Budget reports on the actual and projected price of government at the February and November forecasts, with the Governor's recommended budget, and at the end of each legislative session.