Applications for Voluntary Pre-K (VPK) continue to grow, particularly in rural Minnesota. GOP majorities are reluctant to expand the funding. Most of the opposition stems from questions about whether or not the dollars are being used to expand slots for 4-year olds or whether they're being asked to pick up the tab for a service already being provided.
This sounds very familiar to the opposition before all-day kindergarten got funded.
There's significant interest among Greater Minnesota school districts to expand VPK funding. An analysis of the applications collected for by the Minnesota Department of Education (MDE) shows where the lion's share of the interest came from – rural Minnesota. Applications from rural districts represent two-thirds of the enrollment requests for next year, as shown in chart below.
Here is the breakdown of this year's VPK applications by group: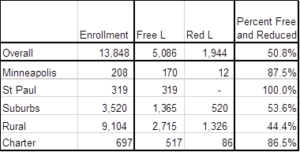 There's an obvious tug of war between formula and VPK funding. If VPK is important to your district, you should let your rural legislators know. They're the ones in most need of convincing.
The Gov. Mark Dayton has advocated for a significant investment in early learning in the state. This session he called for a $175 million in funding to expand Voluntary Pre-Kindergarten opportunities. This investment would serve 17,100 Minnesota four-year-olds and their families at more than 260 school districts across the state. View chart of funding by school district.
The Governor's proposal builds on the current $25 million in funding for the program that has helped 74 school districts across Minnesota offer Voluntary Pre-K to 3,300 four-year-olds. It would offer VPK funding to every school district that has applied for funding this year, extending opportunities to 13,800 new four-year-olds.  View map of districts that have received VPK funding and those who have applied.
The Governor's proposal is in line with MREA's legislative platform, approved by members last fall.