Have you ever met someone who can get what seems like a million things done in what seems like no time at all with extraordinary results?
That's how Kathrina O'Connell's colleagues describe her. She keeps dreaming up new ideas, developing plans, finding resources and collaborating with others to bring them to students at Lake Park-Audubon Elementary. Her energy is obvious when she walks in the room.
"She's one of a kind," her teaching partner Mary Softing said. "You don't meet many Katies in this world. She is always willing to go that extra mile."
Science to Literacy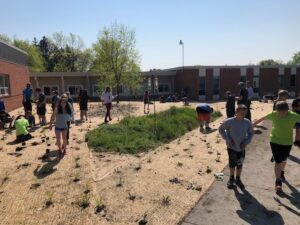 Interested in teaching her students more about science and the connection to their backyard, she started an expansive garden and greenhouse that engaged about 400 students in the process.
Although it was a major undertaking that benefitted the entire school, it seems small in comparison to some of her other efforts.
"I want to have a positive impact on students so one day they will have a positive impact on others," O'Connell said. "I always tell my students whatever your goal is, reach that and then keep going farther."
O'Connell started a summer literacy program for 5th through 8th grade students. In addition to developing the curriculum, she created a wrap-around service approach that included transportation, meals and access to books and resources. 
"I really wanted to focus on creating a meaningful, motivating program in the summer that would encourage students to read and encourage them to want to read," O'Connell said.

Students fostered a love for reading and shared that they read more books than they typically would. It helps build confidence, connections with other students and achievement.
When COVID-19 threatened the program in 2020, O'Connell persisted to make sure the program would be available throughout the summer.
"What makes her a great teacher is that she is very passionate," said Maddy Huseby, a former student who also participated in the literacy program. "She cares about a lot of people and if there is something wrong, she cheers you up."
Educator of Excellence
MREA honored O'Connell as a 2020 Educator of Excellence for her innovation, collaboration and unwavering commitment to get results for her students. See more stories of Educators for Excellence.