The three-year phase of the new Long Term Facility Maintenance Revenue (LTFMR) will be completed in the 18-19 school year. The median increase in funding for school districts in Minnesota for long-term maintenance projects is $214 per pupil with a median of 21 percent state funding.
While $214 per pupil is median district increase in this revenue, the increases range from zero to $299 per pupil. Districts that saw no change are the largest 25 districts that participated in the Alt Finance program, which was rolled into LTFM funding, or districts with high health and safety projects prior to LTFMR.  Those districts will now have a higher base funding than previously.
Increases in LTFMR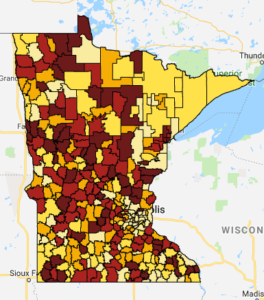 MREA released this map showing the impact of this new revenue from FY 2017-19 by school district in Minnesota. The darkest districts saw the greatest increases in long-term maintenance. View interactive map
Long Term Maintenance Funding was a large unmet need identified by the School Facilities Funding Work Group in 2014 and MREA's top priority during the 2015 legislative session.
Prior to this funding, the largest 25 districts covering half of the student body are able to spend $2.79 per square foot on deferred maintenance while the other 314 districts with the other half of the Minnesota public schools' student body only spend an average of $0.58 per square foot.
Rural-Metro Inequity Continues
While LTFMR has closed this rural-metro gap, it has not eliminated it. The 2015 LTFMR legislation capped the non-Alt Finance school districts at $380 per pupil. The 25 Alt Finance districts are not capped and continue to have levy authority to implement their facility maintenance plans.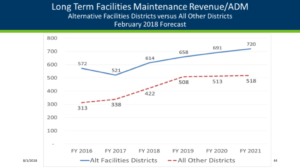 The gap is now $150 per pupil and is projected to expand to $202 per pupil by FY'21 as can be seen in this chart from the Minnesota Department of Education (MDE).
The Facility Working Group anticipated this and in their report proposed for FY '19 and '20:
"For FY 2020 and later, all school districts will be eligible for long-term facilities maintenance revenue based on the district's 10-year facilities plan approved by (the Minnesota Education) Commissioner without a statutory limit on the amount that can be raised without voter approval, consistent with current practice for the 25 districts now eligible for alternative facilities revenue."
Unfortunately this last recommendation was not part of the 2015 legislation, which may need to be revisited in the future.
State Share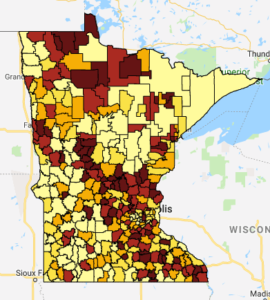 Long Term Facility Maintenance Revenue is equalized on a modified formula that values agriculture land at 50 percent when calculating the state's share of the revenue.  The equalizing factor of 123 percent of the average LTFM per pupil is significantly greater than the factor for debt service and is linked to the average, which will account for inflation.
The state's share of $96 million of LTFM funding annually represents 20 percent of the total $471 million funding used to maintain district facilities.  The median district state share is 21 percent.  Despite this, 83 districts, most of which are in Greater Minnesota, rely 100 percent on local property tax receipts for LTFMR.
MREA released this map that shows the state share of LTFM funding by school district in Minnesota. The districts highlighted in the lightest yellow represent those that receive little or no assistance from the state and rely on local property taxpayers to fund their facility maintenance. View interactive map
Impact of Ag2School
The 40 percent Ag2School credit for school bond costs can be used by school boards to increase the state share of long term facility maintenance project costs by bonding against future LTFM revenue.  Those bond payments are eligible for the 40 percent credit.
This is part of the reason that the state share of debt service payments has increased to 6 percent.  Contact your financial advisor for details and whether this is applicable strategy for your school district.  Learn more