Where are the districts that have schools with Q Comp?  Which districts have added Q Comp since the Legislature raised the funding cap to $88.118 million last year? MREA released a map today to answer these questions. A thumbnail is below. View the interactive map.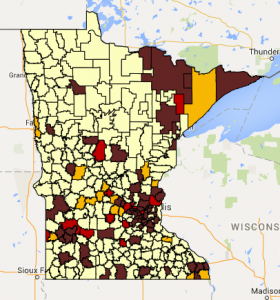 The 109 Minnesota school districts shown on this map as well as the 74 charter schools and 2 Intermediate Districts not shown are projected to have schools participating in Q Comp in the 2016-17 school year. This represents a  60 percent increase from 2013-14.
These numbers assume all plans submitted to Minnesota Department of Education (MDE) as of February 17, 2016 are approved and districts begin the program in the coming school year. According to MDE, there are sufficient funds for all submitted plans. Districts may continue to submit applications until May 15.
MDE will fund plans in order of their submittal date until the cap is reached. As of Feb. 19, there was about $1.37 million remaining.
Metro vs. Rural
Overall, 31 percent of Minnesota's school districts have schools participating in Q Comp. While 27 of the new Q Comp districts are in Greater Minnesota, there is still a metro-rural disparity with wide swaths of the state not participating.
58% of the Twin Cities school districts have Q Comp.
23% of Greater Minnesota districts have Q Comp
What is Q Comp
Q Comp, established by the legislature in July 2005, is a voluntary program that allows local districts and exclusive representatives of the teachers to design and collectively bargain a plan that meets the five components of the law.
The five components under Q Comp include Career Ladder/Advancement Options, Job-embedded Professional Development, Teacher Evaluation, Performance Pay, and an Alternative Salary Schedule.
Approved school districts receive up to $260 per student ($169 per student in state aid and $91 per student in board-approved levy) for the program. Charter schools, integration districts, intermediate districts and the Perpich Center for the Arts receive about $243 per student in state aid since these entities do not have authority to impose local tax levies.
Data Source: Minnesota Department of Education web site, emails from Tyler Livingston, MDE Educator Evaluation and Q Comp Supervisor