Dr. Tom Melcher, director of School Finance for the Minnesota Department of Education (MDE), testified this week on a series of concerns about the new formula for Special Education (SPED) funding and potential solutions.
This testimony at the House Education Finance Committee came as the schools face an increasing number and needs of SPED students.  The number of SPED students in Minnesota has grown 30 percent to 147,000 statewide and now represents over 16 percent of the state's student population, according to Melcher. Learn more about the SPED trends.
The Legislature in 2013 approved a series of Special Education funding changes, but they were a scaled down version of what the School Finance Working Group recommended. The Group recommended a new formula and increasing state aid by $150-200 million a year to reduce cross subsidies.
Legislators allocated $40 million to cover a portion of the cross subsidy for FY14-15, approved a new formula starting in FY16 and increased funding by $38 million in FY16 and $41 million in FY17.
Melcher's testimony highlighted these key issues in SPED funding for Minnesota schools:
The current funding is not sufficient to stop the growth of the cross subsidy.
To hold the cross-subsidy constant at the FY19 level, the state would need to add an additional $78 million in FY20-21. To buy down the cross subsidy $50 per student would require and additional $200 million in FY20-21.
The rates used in the pupil-driven portion of the initial aid formula are out of date.
They are based on FY11 data and adjusted for inflation at 4.6% a year. Using FY16 as a base year for the hold harmless and growth cap have proven unfair. Some districts have seen an increase in their costs that are out of their control. This is a bigger problem for smaller school districts where SPED costs vary more from year to year.
Resident school districts have little ability to control costs of students who open enroll out the other district.
The tuition is often higher than what it would be had they served the students within the district. He raised the question of whether 90% is the appropriate share of unfunded costs. The complexity and lack of predictability in the formula have led to frustration among school leaders.
Schools Share Impact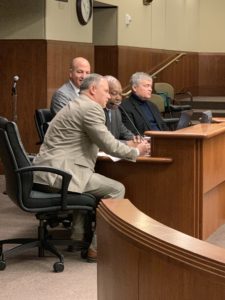 During the House special education hearings, a panel of superintendents also provided testimony about the impact of the cross-subsidy on their school districts. Two of the panelists were rural superintendents and MREA members: Mike Funk from Albert Lea and David Hansen from Buffalo Lake-Hector.
Superintendent Hansen noted that even for a small district, less than 500 kids, the scale of the cross-subsidy is similar to that of big city schools. He noted the cost impacts on his district's general fund, especially for providing services for special needs children who are bussed in from regional treatment facilities.
"[If we continue down this path], "we will be able to offer only the 3Rs, and that's it," he said.
Superintendent Funk hammered home the point that many school leaders already know and that is the parallel nature of their voter approved operating referendum and their special education cross-subsidy. For Albert Lea, a $1,285 per pupil operating referendum is helping the district manage a $1,245 per pupil cross-subsidy.
"Essentially we are asking our taxpayers to pay for SPED costs," he said.
All of the panelists expressed the ethical need to serve special education students in a high quality manner while noting the trade-offs in general education programming they've had to make because the federal government is negligent in living up to their share of special education funding.
MREA is working with other education organizations on how best to tackle special education cross-subsidies with limited state resources. We're looking at revisiting the concept of cross-subsidy equity aid, which would provide a state funded reinsurance model to buy down the highest cost cross-subsidies in the rural and metro regions. A package of funding that included special education cross-subsidy aid, more base aid and lifting the cap would begin a process of helping districts manage their cross-subsidies.
We've offered some thinking that the state needs to have financial triggers in place to keep the average district cross-subsidy from growing past the current 12% value of the general education formula. 15 years ago the cross-subsidy was at 8% of the general education formula. According to MDE the cross-subsidy will grow to 16% of the general education formula if nothing is done.
View MREA's platform that includes Special Education
What's Next?
Melcher's testimony spanned two days, beginning with an in-depth look at the enrollment growth, demographic changes and disability needs. See the key takeaways.
The House Education Finance Committee members have been armed with data, funding issues and potential solutions to help address Special Education challenges in Minnesota. The question is what steps will lawmakers take.
The Minnesota Senate held important hearing over the summer and fall on SPED paperwork and how that reduces the time SPED teachers work with students and are introducing bills in the Senate.
View full Special Education testimony that spanned two days:
House Education Finance Division
Thursday, January 31 2019 – Archive Video
00:40 – Special education and cross-subsidy related presentations
1:01:04 – HF207 (O'Neill) Monticello; school district special education adjustment modified
Runs 1 hour, 24 minutes
House Education Finance Division
Wednesday, January 30 2019 – Archive Video
00:17 – Department of Education presentations
– Mary Cathryn Ricker, Commissioner
– Tom Melcher, Director of the Program Finance Division
Runs 1 hour, 24 minutes.