A new state report on distance learning identifies four primary areas of concern where specific guidance is needed from the Minnesota Department of Education to help school districts and charter schools. The report comes after the University of Minnesota's Wisconsin-Minnesota Comprehensive held 25 sessions with stakeholders at the request of MDE. View the report.
MREA was among the stakeholders that participated in the sessions in June and shared feedback on behalf of Greater Minnesota schools.
Areas of Most Concern
Reliable access to internet was a major challenge that produced inequitable access to almost everything else (i.e., instruction, supports, communication)
The use of different platforms and approaches for learning was problematic across all groups.
1 – Multiple platforms confusing (i.e., different at different levels and even within the same level)
2- Synchronous teaching ("daily interaction") with regards to instruction/learning seems to keep kids more engaged, however it was not well defined and implementation seem inequitable across student groups
MDE's guidance was not provided in a timely manner in spring making it difficult for districts to develop adequate specific information needed about distance learning.
Special education services/accommodations were not effectively delivered.
Taking Action
The report outlines key actions to take by:
MDE when developing and communicating guidance in the future
Minnesota Department of Health and CDC in regards to implementing guidelines
Legislators and policymakers to address needs
Inside the Report
The report identifies additional areas of concern by topic, including access, communication, instruction and supports. The report provides an at-a-glance overview of results, as illustrated below.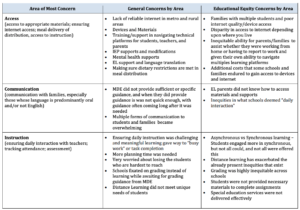 See more by viewing the report.