History can be lived today. Just ask Melissa Klapperich. She enlivens the traditional junior high history and social study lessons with Interactive Notebooks, the making of parfleche bags, extensive fur exhibits to learn about the fur trade and other hands-on, tactile learning experiences.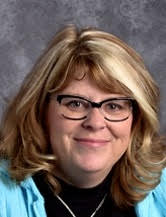 It's an experience students don't forget. They continue to stop in to her Cannon Falls 6th grade classroom even after they've graduated.
MREA honors Klapperich with the 2017 Educator of Excellence for her ingenuity and the impact it's having not only in Cannon Falls and across Greater Minnesota, but also the world.
For Cannon Falls Superintendent Beth Giese the impact also has been personal. "My children both had her as a teacher. I can say first-hand that her talents in working with students are remarkable.  As a parent, I could see her ability to listen as well as lead, organize, plan and communicate our school's mission. As her superintendent, I can see her love and passion for the art of teaching."
That passion contributes to her love of creating new ways for students to learn. She regularly writes and contributes to the creation of new ideas and curriculum. The Minnesota State Capitol rotunda featured mosaic of student art from her classroom. She led a student-created book project where students exchanged letters with students in Iraq, called "Dear Friend: Letters of Peace and Friendship."
One of her most recent co-writing projects led to her proudest teaching moment to date. Working with Dina Fesler, President of the Children's Culture Connection, she was part of an effort called "The U.S./Afghan Junior Investor Program."  The aim was to give Afghanistan and American children access and insight into each other's lives. This helped American students put human faces to the people of Afghanistan. The curriculum addressed nine cultural universals, ranging from family to government to belief systems.
It also gave local students the opportunity to invest in the vocational training of their Afghan counterparts. Her students set out to raise money to help support one year of training for five Afghan students. "We exceeded our goal," she said. "My students raised enough money to put 19 students through a year of school! It changed my life because I watched, once again, the power of education."
The program has since been used in other school districts and received a Nobel Peace Prize nomination in 2014. "It gives me great pride to think I had a hand in building the foundation of such an important educational program," Klapperich said.
"Helping students connect to the world is invaluable to their future" MREA Executive Director Fred Nolan said.  We are honored to recognize Klapperich as a 2017 Educator of Excellence and inspire others to change our world through teaching."