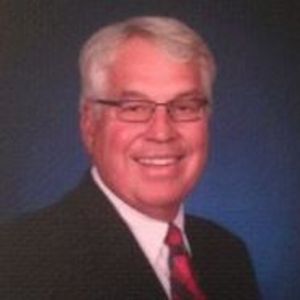 MREA paid tribute this week to Dennis Rettke, a longtime rural school advocate and former MREA executive director. Dennis grew up in Greater Minnesota, where he was known as stand-out athlete and student leader at his high school. He went on to serve Greater Minnesota as a teacher, principal and superintendent before becoming MREA's executive director in 2001. He served MREA until 2004. Dennis passed away unexpectedly on August 29. He had a heart attack while working in the woods near his home in Boyceville, WI. His funeral was Friday in Menomonie, WI.
His obituary, also available at www.olsonfuneralhome.com, is as followDennis Merton Rettke, age 66 of Boyceville, Wis., passed away suddenly on Wednesday, August 29, 2012, near his home.
Dennis is son of Merton and Carol Rettke, nee Wright, was born on November 14, 1945, in St. James, Minn. He was baptized October 5, 1946, and confirmed on April 10, 1960. On September 9, 1967, Dennis wed Patricia Ann Meyers (Patty) at Zion Lutheran Church in Odin, Minn.
Dennis graduated from Butterfield-Odin High School in 1964. He was stand-out athlete and student leader at his high school. He was Captain and Most Valuable Player on the school football team, and wrestling team captain, with a 24-0 regular season individual record. He served as class president, on the yearbook staff and was voted Homecoming King.
He graduated from Mankato State University (MSU) in 1969, receiving a Bachelor's of Science degree in Biology and Physical Education. He also received both his Master's Degree and Sixth-Year Degree in Education from MSU in the mid-1970's.
Dennis and Patty had three sons. Jason Dennis, born December 3, 1969; Chad James, born February 29, 1972; and Ryan Elling, born October 14, 1977. After raising their children in small town Minnesota, they moved to rural Western Wisconsin and have since welcomed eight grandchildren: Jason and his wife Samantha's children Micala and Micah, ages 16 and 2; Chad and his wife Amanda's children Colton, Parker, Audrey and Eddie, ages 7, 6, 3 and 1; and Ryan and his wife Elizabeth's children Jakob and Henry, ages 6 and 1.
Dennis began his 35-year education career in 1969 as a high school teacher and coach in Truman, Minn. He taught biology, phy ed, health and driver's education and coached the football and wrestling teams. After one year in the classroom, he was drafted into the Army and served as a Chaplain's Assistant at Fort Carson in Colorado. He was in the Army for 18 months and held the rank of E5 upon discharge in 1972.
Dennis then spent another five years at Truman, from 1972-1977, the last two of which were as high school principal. He went on to serve as principal of schools in Salmon, Idaho; Parkers Prairie, Minn.; and Morris, Minn. He served as Superintendent of Morris Area Schools from 1987 to 1995, at which time he accepted the position of Superintendent for the Mahtomedi Public Schools. He retired from Mahtomedi in 2001. He then worked as the Director of the Minnesota Rural Education Association from 2001-2004, before moving to Wisconsin and working for three years as the Superintendent of Boyceville Public Schools.
Outside his professional life, Dennis was an avid volunteer and community member. He coached numerous wrestling, football and little league teams; served as a radio announcer for high school wrestling; was a Blood Drive Coordinator for the American Red Cross; and was a member of the American Legion, Kiwanis, Lions and Jaycee Clubs. He was a volunteer EMT. He participated in community theater productions, sang in his church's Men's Choir and taught Sunday school classes, among numerous other community and church endeavors.
Dennis was a passionate hunter and fisherman and avid Gopher football and wrestling fan. He traveled all over the world both personally and professionally. He and his wife Patty entertained regularly, showering guests with laughter, delicious food and great hospitality. Much of the food for their parties came from the extensive vegetable garden they cultivated each summer. Guests joined them in every locale they ever called home, including their cabin on Clitherall Lake, Minn. and vacation home in Dunnellon, Fla.
Dennis was a great lover of life and people. No matter where he was, he made a friend from the people around him. Always the first to answer a call for help, Dennis' assistance ran a full spectrum of activities, from helping his niece move into her new home on a 100-degree July day, to donating bone marrow to help save his brother's life. He is fondly remembered as a wise, gentle man, filled with good spirits and a smile for all.
Dennis is preceded in death by his mother, Carol Wright Rettke; his father-in-law Vern Meyers; numerous aunts, uncles, grandparents, cousins and friends.
He is survived by his loving family; wife of 45 years, Patty, children and spouses Jason and Samantha Rettke of Bloomington, Minn., Chad and Amanda Rettke of Shafer, Minn., Ryan and Elizabeth Rettke of Stillwater, Minn. Grandchildren Micala Burns and Micah Rettke; Colton, Parker, Audrey and Eddie Rettke; and Jakob and Henry Rettke; father Merton Rettke and mother-in-law Irene Meyers, both of St. James, Minn. Brother and sister-in-law Gary and Susan Rettke of Blaine, Minn.; sister and brother-in-law Diane and James Stenson of St. Peter, Minn.; brother Dale Rettke of St. James, Minn.; sister and brother-in-law Dawn and Michael Johnson of Odin, Minn. Six nieces, five nephews, brothers- and sisters-in-law, dozens of cousins and many, many, many friends.
A memorial service for Dennis will be held at 11:00 a.m. Friday, September 7, 2012 at Trinity Lutheran Church in Boyceville, WI, with Pastor Brad Peterson officiating. There will be a visitation on Thursday, September 6 from 4-8 p.m. at Trinity Lutheran Church and also 1 hour prior to the service on Friday.