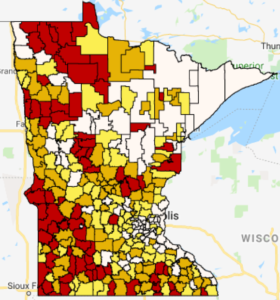 Minnesota faces an increasing rural-metro disparity in local Referendum Market Value (property wealth1) per pupil with Greater Minnesota lagging the metro by 51 percent, according to a new map released by MREA.
The map shows patterns in Referendum Market Value by Residential Pupil Units as a measure of Minnesota school district property wealth in the past year.
To better understand the Referendum Market Value per Resident Pupil Unit (RMV/RPU) of a district and the overall state picture, view the interactive map.
KEY FINDING #1
Greater Minnesota lags the metro in RMV/RPU by 51% when calculated on a per pupil basis.
Rural Household Income, Property Value and Operating Referendum Lag Metro in all Three Measures of Wealth and Revenue
Median Household Income (2017)
Referendum Property value per Pupil ('18-'19)
Referendum Revenue above Basic Formula ('18-'19)
Statewide
$65,699
$583,835
$1,371
7-County Metro
$80,595
$667,210
$1,638
Rural
$55,476
$441,224
$955
Metro/Rural Funding Difference
($25,119)
($225,986)
($683)
Metro/Rural Difference as Percentage of Rural Base
45%
51%
72%
KEY FINDING #2
The metro property values per pupil have exploded coming out of the Great Recession, while Greater Minnesota's have not.

KEY FINDING #3
The median RMV/RPU is $409,000