Minnesota Education Commissioner Mary Cathryn Ricker on Saturday convened the new Minnesota School Finance Working Group to begin the process of developing E-12 funding recommendations.
MREA Executive Director Fred Nolan has been named to the Working Group that is co-chaired by Cheryl Johnson, Goodhue County Education District Executive Director, and Christine Osorio, Superintendent of North St. Paul-Maplewood-Oakdale Schools. View members.
"Our work will focus on carefully and thoughtfully reviewing key funding streams, identifying school finance reform options, and seeking consensus on recommendations for systemic change," Ricker said in her letter to the Working Group.
The Working Group is charged to seek consensus on recommendations for systemic change that will:
Improve the adequacy and stability of pre-K through grade 12 education funding
 Prioritize equity
Simplify education funding
Preserve local control
Close the achievement gap
Promote high achievement for all students
Direct resources to high quality teaching and learning
Group members shared they wanted to serve because they wanted to see improvements in the following areas:
Adequate funding
Equity in funding
Stability and predictability
Governance and transparency
The Purpose of schooling
Facilities
Special education
Referendum revenue
Early learning
Tom Melcher, director of Program Finance at the Minnesota Department of Education, started the work with an overview of school finance trends and how it works in Minnesota.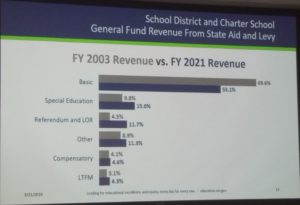 Among the more interesting slides was this comparison of the distribution of funding streams in 2003 and 2019.  Both total to 100%, but it is clear that the Basic Education Formula has decreased as a percentage of total funding and other funding streams have increased.
The Working Group is expected to meet monthly and documents from the work will be posted here.