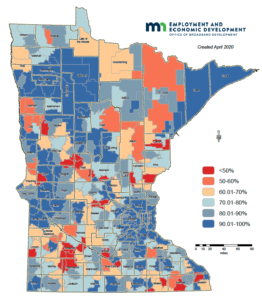 A new map with the latest from Minnesota's Office of Broadband Development shows rural households lack access to wireline and fixed wireless Internet coverage.
Student and family access to broadband service has been critical as Minnesota moved to distance learning in March and through the remainder of this academic year.
About 82 percent of rural households have wireline availability for at least 25Mbps download speed and at least 3Mbps upload speed access. That falls short of the statewide average of 92 percent.
View the new map showing the percentages of households that have broadband availability across Minnesota.
View the data by school district.
In a MREA analysis, the median household percentage of wireline availability for rural school districts in the state trails the metro median by a wider margin of 78 percent to 99 percent, as shown in the map to the right. View interactive map
Availability does not mean families can afford broadband. That is another aspect of access to distance learning not addressed in these maps and district data released by the Office of Broadband Development.
Fixed Wireless
In the southern two-thirds of the state, fixed wireless is also an option in many districts.
Fixed wireless coverage is line-of-sight to a tower, so while coverage is reported at 100 percent, it is often less due to terrain or obstructions in the line-of-sight.
When fixed wireless is included as a broadband option, and assumed available to everyone in the coverage area, the median rural school districts' broadband access climbs to 96 percent, very close to the metro percentage.
Even with fixed wireless, there are:
9 rural districts with less than 50 percent availability
37 with less than 70 percent availability
Quicker, Less Expensive
One advantage fixed wireless systems have over wireline is that they can be stood up more quickly and less expensively than a wired option.
According to Diane Wells of the Office of Broadband Development, Scott County is working with a provider to get service into some townships in the southern part of that county. Another fixed wireless provider is standing up some tower sites in eastern Wright County and western Hennepin County to reach homes desperate for something better than a data-capped cellular hotspot or satellite broadband service.
Legislative Action
Sen. Torrey Westrom (GOP-Elbow Lake) and Rep. Rob Ecklund (DFL-International Falls) also are advancing legislation to support distance learners. Westrom's bill, SF 4494, would fund $8 million in distance learning grants while Ecklund's bill, HF 3029, would fund $15 million.
Both bills also include $10 million in funding for the community broadband fund and $2 million for telemedicine grants.
School districts could receive grants from the Minnesota Department of Education to "provide wireless or wire-line broadband access for a limited duration to students currently lacking Internet access so that the students may participate in distance learning." This is specific to the peacetime public health emergency period due to COVID-19.  Learn more.
Immediate Assistance
Parents who seek information on available broadband providers in their area can access detailed maps of availability by county and by their address or contact the Office of Broadband Development at 651-259-7610 or via email at deed.broadband@state.mn.us.
……………………………..
Stay Connected
Stay apprised of resources and news on COVID-19 for schools at: MREAvoice.org/covid19