MREA celebrates the impact and legacy of Dr. Fred Nolan as he retires as executive director at the end of June after nearly a decade of leadership and service.
"Fred is a great friend to the children of Minnesota and a fierce advocate for their education, especially children in rural Minnesota," said Dr. Brenda Cassellius, Minnesota Education Commissioner from 2011 to 2019. "He was always available to help push an agenda or funding request over the line and his deep relationships and respect at the legislature led to many policies and funding provisions being enacted that benefited our K-12 systems and children."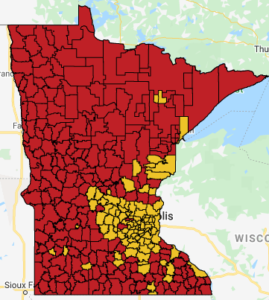 Founders started MREA to bring a unified rural voice to the State Capitol 35 years ago. Dr. Nolan elevated that effort with a vision to become the Voice for Greater Minnesota Education.
He cast the vision less than a decade ago and together with the MREA board and staff, he put in the work to achieve it.
Among his most notable accomplishments is growing MREA's membership to 230 school districts across Greater Minnesota as well as more than 90 education cooperatives, businesses and other advocates. The school districts highlighted in red on the map to the right are members.
"I look to Fred as a leader who understands complex issues and is able to communicate and explain them in a way that makes sense to others," said Lance Bagstad, superintendent of Park Rapids Area Schools and MREA board president. "His leadership of MREA has moved the organization to being the leading voice of education in Minnesota."
Learn more in the video below:
A Legacy
Here's a look at just a few of Fred's accomplishments at the helm of MREA:
Focused on what put learners first
Initiated interactive mapping software to show the impact of issues by school district, region and statewide
Made communications a key priority and differentiator
Named and claimed issues to bring about change for Greater Minnesota schools, like the Donut Hole and Ag2School
Brought extensive analysis to illustrate the impact of the issues schools face and potential solutions
Developed guides to help superintendents and other school leaders understand key issues as well as plan and take action on COVID-19, distance learning, hybrid learning and more
Grew MREA team with expanded legislative affairs, member services and communications
Expanded value-added services provided to MREA members
"Many can see the obvious impact that Fred Nolan has made on the direction of MREA and the educational landscape in Greater Minnesota," said Lee Carlson, a teacher from Windom Public Schools and MREA board member. "I consider it a privilege to have been able to serve on the board throughout his tenure as Executive Director for MREA. It is one thing to see the outcome. It is another thing to see the combination of expertise and nuances that created the outcome."
Dr. Nolan built extensive relationships across the state to advocate on behalf of students. "To say Fred Nolan's impact on education in Minnesota has been significant is an understatement," said Charlene Briner, former Minnesota Deputy Education Commissioner. She now serves as Deputy Commissioner for the Minnesota Department of Human Services.
"He's been a tireless advocate for schools and students, drawing on his experience as a superintendent and an expansive network that includes just about everyone who works as a school leader or educator in Greater Minnesota," Briner said. "During my eight years at MDE, I can't remember one policy issue that Fred didn't weigh in on or help shape, always doing so thoughtfully and with good humor, even when we didn't always see eye to eye. As he moves into a well deserved retirement, I hope he does so knowing his advocacy leaves a legacy that will last long beyond his time at MREA."