House Omnibus Bill Heads to the Floor, Senate Omnibus Focuses on Literacy
After a week-long Passover/Easter break, legislators returned to the Capitol on Tuesday, April 19, with less than five weeks to go. The 2022 session must adjourn on Monday, May 23, and legislators are only allowed to pass bills until midnight on Sunday, May 22.
The immense divide between the House DFL and Senate GOP majorities and their respective budget and policy proposals remains an intimidating challenge. Leadership negotiations on outstanding COVID-19 related issues continue – including frontline worker payments and unemployment insurance. Many believe that the success of any subsequent 2022 session bills hinges upon the agreement between leaders on those big-ticket items. A supposed April 30 deadline exists for a deal on unemployment insurance before employers get hit with UI increases.
House Education Omnibus Bill Passes Out of Ways and Means
HF4300, the House Education omnibus bill is headed to the floor after a party line vote in the Ways and Means committee. The bill appropriates $1.155 billion in fiscal year 2023 and $2.215 billion in fiscal years 2024-25. A large portion of that price tag, $422 million, goes toward closing the special education deficit. Some provisions from the early education bill were added as amendment, which includes a mixed-delivery voluntary prekindergarten proposal. The full House floor will debate this bill on either Wednesday or Thursday this week.
House State Government Finance Bill Takes on Pension Boost
Last week in the House Ways & Means committee, the state government finance bill, HF 4293, took on an amendment that would put $400 million into the state's various public employee pension plans, including TRA. No changes to TRA were proposed.
Senate Education Literacy Omnibus Bill Passes Out of Finance
Chair Chamberlain remains laser-focused on improving literacy rates in Minnesota and his self-titled "literacy omnibus appropriation" bill, SF4113, reflects that. The bill passed out of Finance, its last committee stop, and will likely be heard on the floor in the next week or two. The bill appropriates $30 million to provide LETRS training for K-5 teachers statewide.
Additionally, Chair Chamberlain held his third hearing on the Feeding Our Future and federal summer food program alleged fraud issues. MDE continued to defend its role in overseeing the grant program. In this hearing they pointed a finger at the USDA and a district judge who ordered the continuation of payments even after MDE had raised concerns.
Compare the Walz, House DFL and Senate GOP Education plans here: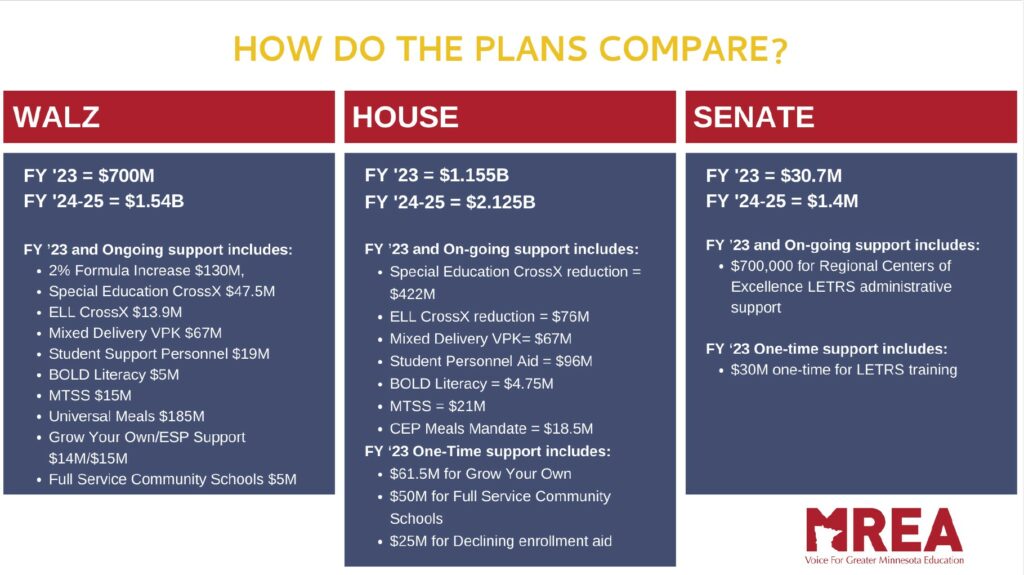 This week in Education Committees
Senate Education
No hearings scheduled.
House Education Policy
No hearings scheduled.
House Education Finance
No hearings scheduled.