Students of all ages, from preschool and elementary through high school and college, will be affected by the President Trump's broad, multi-year cuts in non-defense discretionary (NDD) spending. For public schools, proposed cuts include:
Title I reduced $578 million (Down .04%)
Title II eliminated $2 billion ( Down 100%)
Title IV-A eliminated $400 million ( Down 100%)
Full Service Community Schools eliminated $10 million (Down 100%)
CTE $148 million (Down 13%)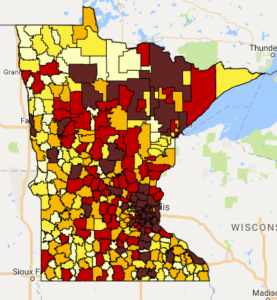 The one significant increase is $1 billion set aside for demonstration grants for public school choice within the Title I program.
Minnesota school districts would lose $27.5 million in Title II teacher and principal staff development funding.  See interactive map.
Read a comparison of 2018 budget to previous years.
Widespread Opposition
"The path, outlined today, is anything but forward. The President's budget calls for more than $10 billion in education cuts and $800 billion in Medicaid cuts," said Daniel A. Domenech, executive director of AASA. "Layered on top of cuts to child nutrition programs, we are looking at a confluence of failed funding policy that will leave our students sick, hungry and without adequate education program support."
"While Trump and DeVos chose private schools for their kids, with small class sizes, they want to eliminate the federal funding that helps America's public schools lower class sizes," Randi Weingarten, AFT President, said, referring to the elimination of Title II grants.
"At a time when millions of job openings go unfilled every year due to shortages in the skilled, technical workforce, President Trump should double down on an investment in CTE, not propose drastic cuts," ACTE Executive Director LeAnn Wilson and Advance CTE Executive Director Kimberly Green said in a joint statement.
"Proposals for vouchers, tuition tax credits, and the Title I portability will not advance student learning or help close achievement and opportunity gaps. They will, however, effectively redirect taxpayers' dollars from public to private schools, effectively creating a second system of taxpayer-funded education," National School Board's Executive Director Thomas Gentzel said.