Over the past 17 years, Minnesota school district general fund revenue per pupil trailed inflation by $121 per pupil in constant FY 2020 dollars, according to a new analysis by MREA. State aid has declined nearly $1,500 over the same timeframe while levies have increased $1,377.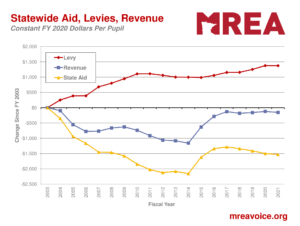 While this is a general statewide trend, every school district has a unique pattern due to the complexity of the state formulas, changes in each district's student demographics, and the specific local levies authorized by voters and school boards. MREA developed personalized graphs for each of its member school districts.
A rural-metro analysis, as illustrated in the chart below, shows that the median rural and metro districts exhibit these trends.

Metro Changes
The median metro district has experienced smaller losses in aid, greater increases in levies and a small increase of $139 in total revenue.
Rural Changes
In comparison, the median rural district has seen a greater loss in state aid, a smaller increase in levies and a net decline of $206 in per pupil revenue over this same time period.
MREA will be addressing these patterns in the upcoming Fall Member Meetings. Learn more and register.
For this analysis:
Rural districts are all Greater Minnesota districts with less than 7,500 Adjusted Pupil Units (APU)
Metro districts are those within the 7-county metro and the Duluth, Elk River, Mankato, Rochester and St. Cloud school districts.
Resources
MREA member districts can download their district chart here.
View district run of aid, levies and revenue per year FY 2003-FY 2021