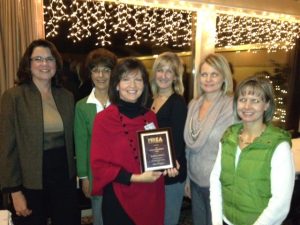 A respected educational leader in Central Minnesota, Rynell Schock has been dedicated to improving literacy instruction in local classrooms through research-based best practices and high quality professional development.
MREA recognizes Rynell for that commitment as the 2012 Distinguished Award Recipient. MREA will honor Rynell at a banquet on Nov. 12 at Cragun's in Brainerd.
As an education specialist at National Joint Power Alliance, Rynell provides leadership in instruction, assessment, curriculum, and student achievement impacting over 250 teachers. She has developed a series of new programs, including Summer Institute, Marzano Leadership Academy, mentorship program for beginning and non-tenured teachers and professional Leadership Communities.
That follows a series of significant contributions she has made to rural education since moving to Minnesota from North Dakota, where she was a teacher and elementary principal. She helped secure a three-year Comprehensive School Reform Grant that enabled teachers at Staples Elementary School to implement the Early Interventions in Reading Program for improving reading instruction, and implemented a community reading program for struggling students. She worked with schools across the state to implement research-based practices in reading instruction and assessment and facilitated PLCs with teachers. She built the RELI program through the Freshwater Education District and became a rural champion for best practices in literacy instruction.
She was co-author of Reflective Coaching Conversations: A Missing Piece that Appeared in The Reading Teacher and her work has been featured in a variety of publications. Rynell brings wisdom, passion and professionalism to all aspects of her work as an educator. She constantly challenges herself and others to be and do their best daily in their schools. Her work is fueled by her love for children and steadfast faith.