An array of research shows that providing students from low-income families the opportunity to attend a high quality pre-school program closes achievement gaps and offers extensive societal benefits. This has led to a growing interest among state policymakers to increase Minnesota's investment in quality pre-K programming.
Impressive Research Results
The results from school readiness Pre-K programs are impressive. For example, data from Saint Paul Public Schools shows that students in the Pre-K program advanced in the areas of vocabulary, math, spelling and reading.
Figure 1: Comparison of Kindergarten Academic Test Scores from 10 Schools Participating in Saint Paul Public Schools Pre-Kindergarten Program, First Three Cohorts (2013-14)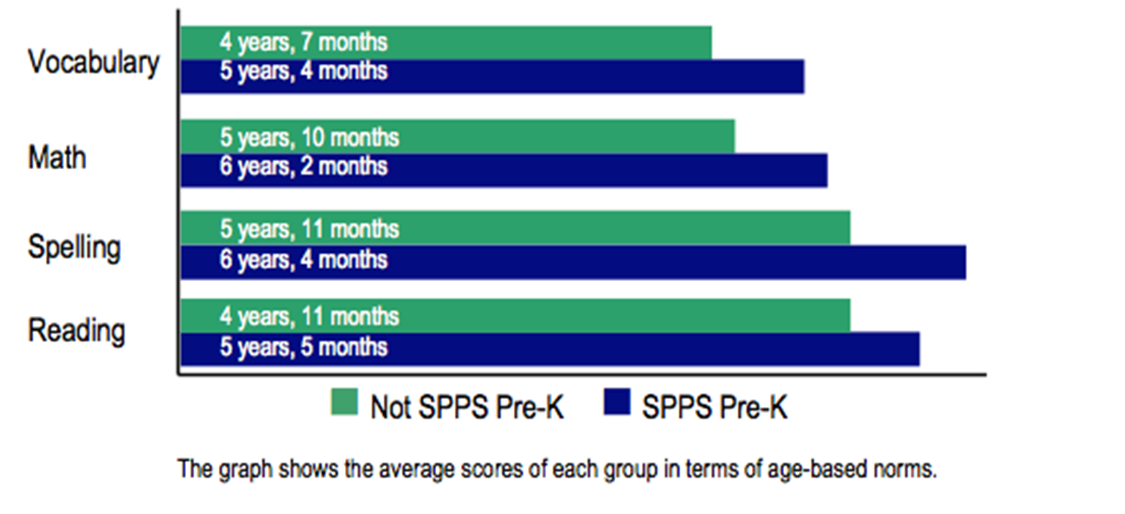 Minnesota Has Fallen Behind
Minnesota was ahead of the curve in 1992 when it passed legislation for a School Readiness Program and required school districts to use the funds to serve at-risk 3- and 4-year-olds and prepare them for kindergarten. Unfortunately,  Minnesota has since fallen behind. While the research continued to pile up showing the positive impact of high-quality early learning, especially for children living in poverty, investments stalled. School districts did not receive any additional funding for school-based preschool programs for more than 20 years, until the 2014 legislative session.
New Vision for School Readiness
State policymakers have now established a bold vision of universal Pre-K to prepare all students for kindergarten. Two funding options have garnered great attention in this 2015 session:
Expand the existing scholarship program
Rapidly move toward a universal 4 year-old pre-K program.
A third option, to significantly increase the investment in Minnesota's School Readiness Programs, would provide a path to universal pre-K that immediately focuses on the students most at risk of not being ready for kindergarten, while providing school districts time to expand infrastructure and secure the teachers necessary for a universal program.
Expanding Minnesota's School Readiness Program, arguably the most effective and efficient early learning program available, could provide a smooth transition to that ultimate goal.
Learn more about Minnesota's School Readiness efforts (page 3).
Thanks to the Association of Metropolitan School Districts (AMSD) for this article, which originally appeared in its March 2015 Connections newsletter.