Greater Minnesota school districts have made the transition to distance learning with 96% of the state's rural youth engaged, according to the results of a MREA survey of superintendents released today. The key factors of a successful transition were type of course, age of students and the access to technology.
The survey, completed by 101 rural school superintendents last week, covered a variety of topics related to how Greater Minnesota schools are responding to the coronavirus COVID-19 pandemic, including:
Transitioning Courses & Learning
Meals
Child Care
Staff Morale
Finances
Extending Distance Learning
Transitioning Courses
Superintendents reported that 97% of their school district's courses have transitioned to distance learning.
The core academics, English and reading, math, science, social studies from mid-elementary (grades 3-5) through high school were most successful.
Career & Technical Education classes, hands-on art classes, early reading and special education services were reported as the most challenging to transition to distance learning.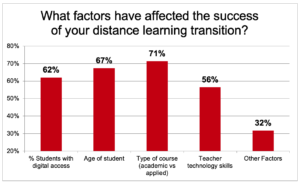 The type of course led the factors affecting the transition to distance learning with 71% impacted, followed by the age of students and the access to technology, as shown by the chart below.
Among other factors listed include:
The age of the parents, younger parents adapted more quickly.
Students moving to day care at their grandparents.
E-Learning previously being implemented (for at least a couple of years)
Teachers who have been on special assignment (for the last two years) preparing staff to be more adept at digital teaching and learning.
Some modifications and adaptations for special education students are simply impossible to do digitally.
Parent Support & Collaboration
Superintendents highlighted the support of parents and teacher collaboration to the successes with distance learning in their comments. Among the comments were the following:
Parent support has been phenomenal.
The teachers have supported one another to get technology working at all levels. They started a google doc to share what is working and questions or issues that have come up.
Many students have taken to the distance learning model well.
Willingness of parents and teachers to quickly learn the necessary technology.
Parents are going the extra mile to act as tutors and are positive models for their kids
Teacher Support
Superintendents and principals are finding ways to support their teachers in distance learning and encourage collaboration.  Some of the strategies listed include:
 Grade level or department level meetings on a weekly basis to check in with staff. (With the suggestion that they connect virtually).
Constant affirmation of staff's efforts
Provide resources galore.
Provide flexibility.
Communicate frequently. Sharing factual information and being sensitive to their individual needs.
Paying everyone.
Encouraging everyone. Promoting the "less is more" mentality. Recognize opportunities to grow with the challenges.
Individual Zoom meetings to check in.
Group meetings via Zoom to visit and share successes and frustrations.
Constant updates so staff know what is going on.
Have board send an uplifting, supportive email to all staff.
Plan for a fun social gathering with all staff when this is all over.
Meals
57% of the meals normally provided were being provided to rural families through multiple methods.
Methods include parental pickup, delivery to students' homes and drop off sites.
Child Care
43% of these districts are providing child care to 6-20 children of essential workers.
Only 5% are providing care to 50 or more children.
This critical child care is provided by relatively few staff per district.
Staff Morale
67% of superintendents reported that staff morale is higher than usual among teachers.
60% report it is higher than usual among those providing meals.
Only 29% for staff providing child care and superintendents report concerns for staff in child care. One described a "Deep concern for staff health because the students come from healthcare workers' homes.  A lot of anxiety here —more than in any other aspect of our work right now."
Finances
Greater Minnesota superintendents anticipate deficit spending for the fiscal year across the board.
65% anticipate deficits in Community Education
50% in Food Service
39% in the General Fund
In addition, 52% predict that Community Education will have exhausted the Fund's total reserves and 38% predict that will occur in Food Service.
COVID-19 is also affecting financial planning. When asked to compare their FY '21 budget planning now as compared to pre-March 18, the number expecting to make budget reductions has risen from 25% to 39%, and the number expecting to increase budgets and staffing has fallen from 25% to 8%.
Extending Distance Learning
Should distance learning be extended to the end of the school year, superintendents listed prom and graduation most often as well as the following additional challenges:
Planning for events such as graduation. We want to make these events as meaningful as possible while keeping everyone safe and healthy.
I see challenges with distance learning burnout, social emotional well-being, not necessarily related to distance learning but to fear and frustration of the whole situation.
How to keep parents and students engaged.
Maintaining personal connections with our students and their families
Finishing evaluations,  grading, GPA, etc in  a fair manner.
……………………………..
Stay Connected
Stay apprised of resources and news on COVID-19 for schools at: MREAvoice.org/covid19