An increase in the First Tier of operating referendum equalization in Minnesota in 2019 will reduce taxes for homeowners and business in 145 school districts on existing operating referendums.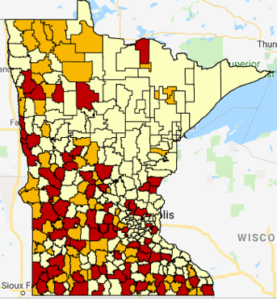 This represents a $10 million total increase in state share for Pay '20:
Median district reduction is $17,000
Largest reduction of $1.91 million in Anoka-Hennepin
111 districts have no operating referendum revenue
View print-friendly issue brief.
Why It's Needed
As state basic education funding continues to lag inflation, school districts have increasingly relied on voters for operating referendum revenue to fill the gap, which has grown to $661 since 2003. Referendums have passed at a highest rate for metro districts than those in Greater Minnesota.
Voter Approved Operating Referendum Revenue
Per APU
% APU
% of Op Ref Revenue
Statewide
753
Metro
1,063
61%
86%
Rural
269
39%
14%
What's Next
On Nov, 5, 2019, 28 rural and 9 metro schools districts are seeking increases  in voter approved referendum revenue, as shown in red in the map to the right. Another six rural school districts and one metro district are seeking renewals, as shown in gold.
Income Impact
A MREA analysis of median household incomes and referendum market value found a clear connection. Lower passage rates in rural areas are due to lower median household income and lower referendum market values.