In front of the House and Senate Education Committees on Wednesday, Education Commissioner Brenda Cassellius joined members of the Minnesota Department of Education Indian Education Working Group in requesting additional state funding for several programs that support public schools districts with a large percentage of American Indian students and each of the state's four tribal contract schools.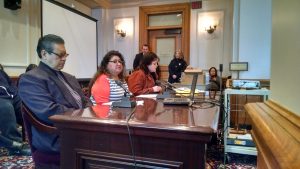 The presentations followed the department's annual graduation rate report released Tuesday that revealed only 51 percent of American Indian students attending public or tribal schools in Minnesota graduate in four years or less. The state average in 2014 was 81 percent.
To combat that disparity, the ask is for $5.5 million in increased funding over the next biennium for tribal contract schools. The additional dollars would bring the per-pupil spending for students in those schools to $10,000.
Other recommendations from the group include:
Increased funding for "Success for the Future" state Indian Education program — and transition from a competitive grant to a formula-driven program to support additional districts and schools. MREA is a strong supporter of this provision.
Support for Gov. Dayton's proposal to increase annual funding of all federal Title VII recipient schools and districts by $4.5 million
An additional $7.5 million annually to support all districts and schools that enroll American Indian students
$1.6 million annually to create a new "Early Childhood in Tribal Communities" program that would allow all 11 tribes in Minnesota access to funds to develop community-based family engagement programs; and
Creating a provision which allows Minnesota to recognize additional alternative high school equivalency test options in addition to the GED.