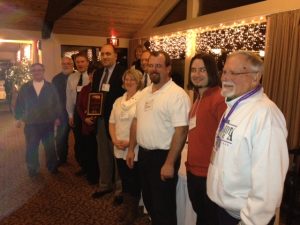 MREA recognizes Little Falls Community Schools' Project REAL with the Profile of Excellence Award at its banquet on Nov. 12. Little Falls Community Schools put iPads in the hands of 1,450 students last year, marking the largest known one-time roll-out for full-time student use in the state of Minnesota.
The district first launched a pilot for Project REAL in 2010 by providing an iPad to each fifth grade student in the district before fully launching it last year. Project REAL aims to:
Increase student engagement in school
Provide student and family access to digital content
Provide access for students to pursue individual interests
Create opportunities for the student to extend the learning day
Better prepare students to meet the expectations of higher learning and their future employers
Project REAL has gained the attention of school administrators and teachers statewide and led the district leaders to share how they did it and what the results have been. Much of the project's success stems from the district's focus on providing teachers high quality professional development as they worked to incorporate the devices into instruction in the most meaningful ways.