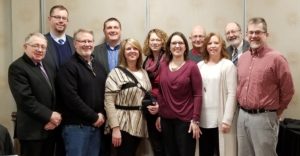 Minnesota's new Education Commissioner Mary Cathryn Ricker got her K-12 education in Hibbing and fell in love with American Literature. It wasn't until she started teaching that she realized how unique Hibbing was and what inequities there are in education.
"I thought all students walked up marble stairs to first hour class," she said.
This was how Ricker began a 80-minute conversation with the MREA Board last week.  The Commissioner shared her "lived experience," giving the the board insight into her perspectives, and then she highlighted the Governor's education budget.
Teaching Career
After graduating from University of St. Thomas, she was offered a middle school position in St. Cloud.  Since she had always wanted to teach high school American Lit, she called her dad for advice. "'It's a full-time job with benefits,'" she recalled her dad saying. "'You're going to take it.'"
Ricker taught middle school for 13 years, falling in love with middle level students and the hard-working, passionate teachers she worked with in St. Cloud, Korea and St. Paul.
Along the way, she earned her National Board Certification and filmed a series of writing lessons for middle schoolers.
Following budget cuts in St. Paul in 2005, she ran for president of the teacher union and won a three-way race against more experienced candidates.  She attributes it in part to being "solution-driven to improve public education."
Rural Focus
In 2014 she was elected as the AFT Executive Vice President. In that capacity, she focused on rural or small town education.
"Lee Carlson [MREA President] was my first phone call," she said.  She knew Lee from from the Education Minnesota Governing Board. She spent a day with him in St. James learning more about rural education.  She has also spent time in Montana, Upstate New York and rural California.
She saw that rural areas experienced common issues of job losses in traditional industries, declining property wealth, community identity issues, emerging diversity, the challenges of American Indian education and poverty.
Listening as Commissioner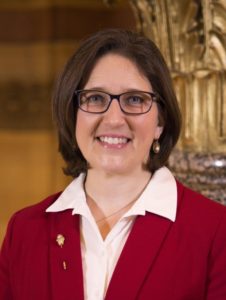 As Commissioner, she wants to do listening sessions on the current experiences of students, and what do Minnesotans want kids' experiences to be. Everyone will be invited. She wants to listen, learn and shape her thinking.
She is also calling for a new School Financial Task Force to address funding issues with a particular focus on the Special Education (SPED) cross subsidy.
The Commissioner highlighted the Governor's budget of 3% and 2% with $77 million in SPED funding to "freeze the cross subsidy and [have] 3 and 2 mean 3 and 2."
She shared that $59 million is to extend the current slots for Voluntary Pre-K (VPK), "so we don't go backwards" for the 4,000 students in 140 schools across 80 districts that are set to expire under current law.
Learn more about the Governor's Budget Plan for E-12 Schools.
Concluding the conversation with teachers, school board members, school and cooperative administrators on the MREA Board, the Commissioner complimented the MREA Board for being a labor management partnership with advocates sitting at the table leaning in naturally to solve problems together.