Nearly 31,000 rural public school students live in households that do not have broadband Internet access, according to an MREA analysis released today. These rural students, living about 23,000 households, account for 85 percent of the statewide total.
Even the metro's 15 percent without broadband Internet access is a significant number of students. There are about 6,000 students in over 4,000 households in the Twin Cities metro area without broadband Internet access.
This has become a major issue as Minnesota's students went to distance learning this spring and increasing uncertainty remains for being able to return to in-person instruction in the fall. The Minnesota Department of Education (MDE) is calling on schools to plan for at the very least to begin with a hybrid of in-school and distance learning.
Getting an accurate picture—both statewide and to every district and household with enrolled students—is an important first step to connecting all students to distance learning.
Adequate broadband access has been defined as a connection with bat least 25 Mbps download speed and at least 3 Mbps upload speed.
Pressing Need
MREA Estimate of Public School Students and Households Without Broadband Access of at least 25 Mbps/3Mbps
 
Public School Enrolled Students
Households with Persons Under 18
Rural
30,918
22,548
Rural Percentage
85%
85%
Metro
5,597
4,081
Metro Percentage
15%
15%
Statewide Total
36,515
26,629
The number of households that need access is the key number for planning and ensuring students have the resources they need to learn in the coming year.
For example, Foley with 1,933 students has an estimated 562 students in 410 households without broadband access because it has at best 67% of its households with access.
Due to its size, Anoka Hennepin which is the largest district in the state with 38,122 students has an estimated 549 students in 400 households without broadband access despite a reported 98.65% access to at least 25/3 speeds.
Areas of Greatest Need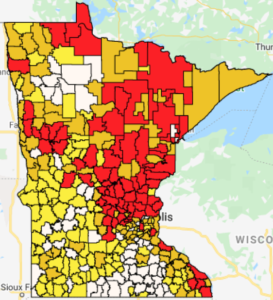 As can be seen in this new map, this combination of district size and lower percentages of access results in the greatest numbers of students without access in the Northeast and North Central regions, followed by the Northwest.
The map to the right shows school districts with students without broadband access. Those highlighted in red have greatest number of students without broadband access.
View the interactive map and data by school district.
View data of all school districts.
This creates a top ten list of districts with enrolled students estimated to be without broadband access of at least:
25 Mbps download speed
3 Mbps upload speed
Top Ten Minnesota School Districts with Enrolled Students Estimated
to be Without Broadband Access at least 25 Mbps/3 Mbps
ISD No.
Name
Public School Enrolled Students Without Access
728
Elk River Public School District
1013
2142
St. Louis County School District
939
477
Princeton Public School District
900
709
Duluth Public School District
789
578
Pine City Public School District
781
911
Cambridge-Isanti Public School District
772
727
Big Lake Public School District
760
726
Becker Public School District
698
2859
Glencoe-Silver Lake School District
696
2144
Chisago Lakes School District
613
138
North Branch Public Schools
611
Accurate Count
Gov. Tim Walz announced that the first priority for the $43 million in the Governor's Emergency Education Relief (GEER) funds will be "prioritizing technology for K-12 students to assist their learning."
In order to advocate effectively in the allocation of these funds, MREA needs an accurate count of the number of households by district which need the ability to connect with broadband speeds.
MREA asks for the assistance of school districts in creating this accurate count.
Please check the estimated numbers for students and households in the district run.
Then email MREA at info@mreavoice.org with the count of households with enrolled students who do not have access AND the number who have access but cannot afford to pay for that access.
These accessibility estimates do not address affordability.
View the data by school district
These MREA estimates of enrolled students without 25/3 access are based on the number of resident households within a school district.
Minnesota's open enrollment policy and charter schools add to the complexity of understanding how many students are without access.   Further complicating efforts to provide access are the multiple Internet service providers across the state and within school districts.
MREA arrived at these estimates by combing the Minnesota State Office of Broadband Development coverage maps with the Census American Community Survey (ACS) data on households with persons under age 18 per in each school district and Minnesota Department of Education data on 2018-19 enrolled students.
Learn more on broadband availability by district.
School leaders and parents who seek information on available broadband providers in their area can access detailed maps of availability by county and by their address or contact the Office of Broadband Development at 651-259-7610 or via email at deed.broadband@state.mn.us.
…………………………………….
Stay Connected
Stay apprised of resources and news on COVID-19 for schools at: MREAvoice.org/covid19
Learn more on broadband availability by district.