Part IV –

Student

Support Personnel Aid and School Library Aid
In the 2023 legislative session, there were two new forms of revenue based on per pupil funding with a minimum of $40,000 per district. These revenue streams are Student Support Personnel Aid and School Library Aid. Today, we'll dive into how these two aids affect rural districts.   
Student Support Personnel Aid

 
Districts can use this new revenue source for salaries and benefits of new full-time equivalent licensed school counselors, psychologists, social workers, school nurses, or chemical dependency counselors. This may also include increasing part-time licensed staff to full-time equivalent. Also, if a district hired these employees with ESSER/ARP funds and these personnel would be subject to lay-off, a district may continue funding the position with this revenue, however the position must have been hired to increase FTE due to the pandemic. Districts can hire contracted staff if they do not have at least two qualified candidates apply to fill these positions. 
The annual funding has a per pupil revenue with a minimum of $40,000 in aid.   
FY24 $11.94/APU

 

FY25 $17.08/APU

 

FY26 and FY27 $48.73/APU 

 
MREA believes there's inequity in this legislation in that if a district does not use the funds, they must return the money to the state at the end of the fiscal year. This presents many problems for smaller districts who receive the minimum of $40,000. First, candidates for these positions are already very hard to find. This new legislation will increase the shortage of these positions. Further, the minimum funding of $40,000 is not enough to hire a full-time position, which makes it even more difficult for a small district to hire. The legislature did not include language to carry over the unspent aid, so these districts may lose out on revenue that other districts will receive.   
Considering the total funding that larger districts receive, they will be able to hire full-time personnel. The funding for this revenue source is around $38 million over the two years shown and will be divided per district, so it was not one of the larger revenue streams.   
MREA would like to see meaningful minimums on all per pupil revenue streams where smaller districts would actually be to fulfill the intent of the legislation. If districts are supposed to hire personnel, then the minimum amount needs to be increased in order to do so. This legislation will need to be revisited if the legislature wants smaller districts to fulfill the goal of providing students with more mental health support.   
MREA created a map showing the distribution of Student Support Personnel Aid throughout the state by district.   
See the MREA Student Support Personnel Aid map.  
Due to the minimum revenue of $40,000, districts with an APU less than 3,350 received more than the average $11.94/APU in FY24. Similarly, in FY25 any district that had an APU less than 2,342 received more than the $17.08/APU. This increased the total FY24 and FY25 median to $82/APU. Most large districts received a little over $29/APU (11.94 + 17.08). 
The map shows a clear per pupil amount favoring rural districts, but the reality is that many of these districts won't be able to fulfil the intent of the legislation with these minimum amounts and will have to return them to the state.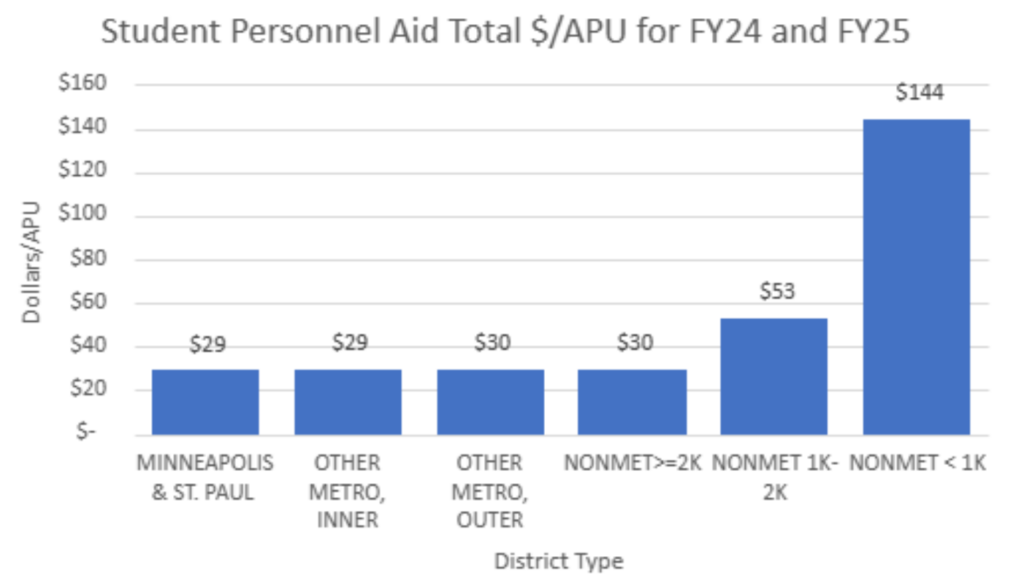 School Library Aid  
School Library Aid is more flexible than Student Support Personnel Aid in that it has a variety of uses and does not need to be returned to the state if it is not used in the current year. Library Aid must be used for directly funding the costs of the following purposes within a library: 
Salaries and benefits of a school library media specialist

 
Electronic, computer and audiovisual equipment

 

Information technology infrastructure and digital tools 2023 

 

Electronic and material resources

 

Furniture, equipment, or supplies

 
Library Aid is calculated by taking the greater of $16.11/APU times the APU of a district for the current year, or a minimum of $40,000 for school districts.  
The district may assign a non-certified staff identified as a library media specialist to work in the library and this money can be used to supplant library media specialists currently paid through other funding.  Library spaces identified within the school building must be accessible to all enrolled students. These spaces can be educational classrooms or other common spaces, but time must be set aside specifically for library time. 
MREA created a map showing the distribution of School Library Aid.   
We can see a similar pattern to Student Personnel Aid in that the larger schools in the state did not receive as much funding per APU. The minimum revenue stream of $40,000 was helpful to smaller districts on a per pupil basis. The uses of this funding stream are broad enough that every district should be able to use the funds to help improve their libraries. There is no concern with this funding stream being returned to the state like Student Personnel Aid because unused funds can be carried over to the following year but must be reserved for the intended purpose. In total, this funding stream is around $40 million over the two years.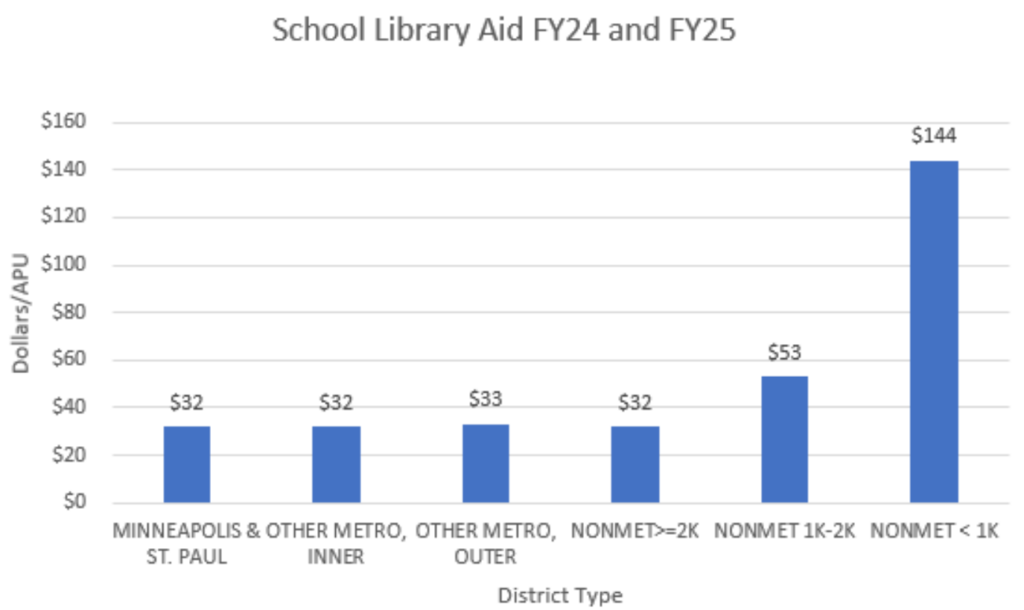 The chart above reinforces the fact that minimum revenues help smaller schools when considering dollars per APU. Any district that had less than 2,483 pupils received more than the minimum of $32.22/APU ($16.11 + $16.11) for FY24 and FY25 that the larger districts received. 
Key Takeaways
Meaningful minimums on per pupil revenue streams greatly helps rural districts.

 

MREA has 3 main concerns with the School Support Personnel aid:

 

The restrictive use of funding.

 

The $40,000 minimum will likely not be enough for a district to f

ulfill the intent of the legislation.

 

The inability to carry over unused funding, resulting in the district needing to return the money to the state.

 
Next Up –

American Indian Education Aid
Watch your next Insider Brief as we dive into how the new American Indian Education Aid legislation was distributed throughout the state.